We have just launched a new ebook editions of my novel the The Daughters of Blane, which you can buy  from Amazon in Kindle format and from Smashwords in Kindle, ePub and other formats
One of the questions novelist are always asked is where the idea for a particular story came from. In the case of this novel, it was from a place and a painting.
The place was Penrhyn Castle in North Wales. If you are planning any summer trips in that part of the world, I would highly recommend at trip to Penrhyn which is utterly astonishing. Built in the 1820′s by architect Thomas Hopper, with the stupendous profits from slate mining, the Castle is a neo-Norman fantasy of epic proportions.
The interiors are especially jaw dropping.
I knew all about the place before I went, and had seen photographs but nothing could prepare me for the reality of it. I simply gawped and thought "I must use this in a story." The atmosphere was helped by the fact the NT had introduced audio guides which meant that although there were lots of people there they were not chatting but listening to their guides. And perhaps like me, they had been rendered partially speechless by the over-the-top-ness of it all.
The other thing was a painting: Sargent's very famous triple portrait of the Acheson Sisters.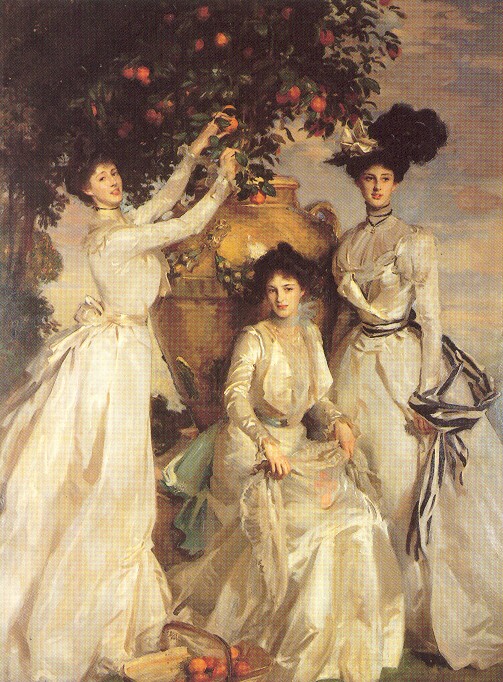 In Blane, a similar picture is painted of my three heroines by aspiring young Scots painter, James Henderson. Unfortunately for him, his career is not as wildly successful as Sargent's and his story forms one of the sub-plots of the novel.
When the novel was first published by Headline in 1994, it had a gorgeous cover design by George Sharp which combined the two elements, so that Penrhyn Castle appears in background  to the right of the sister with the black and white sash, who in the story is the middle sister Leonora.
In the story the painting is bought by John Cameron, Isobel's future husband and is last mentioned hanging in their palazzo in Venice. But, as the Telegraph always says, it can be revealed, the painting of course came back with Isobel when she moved into a house on the outskirts of Edinburgh in 1900, and has been there ever since, the property of the Cameron family. Blane Castle, like its real life counterpart, has of course passed into the hands of the National Trust.