Writer's Café is a software toolkit for writers that I co-designed with my husband Julian who is a programmer. It came into being like this:
We were on holiday on Colonsay in the Hebrides, it was raining and we had nothing to do but think. So we sat down and tried to think of way to pooling our expertise into some software that writers would actually find useful in the development and planning of their stories. I had tried some of the products that had appeared on the market and found them woefully disapointing. So we tried to design something better, something writers would find really useful.
The heart of our idea, which we developed over the next few years, was StoryLines, a tool that takes the old plotting stand bye of using index cards and puts it on a new level. StoryLines makes it quick and simple to generate, record and organise your random ideas into a working structure.  To this we have added lots of other useful writerly tools, and we continue to get delighted reports from our users.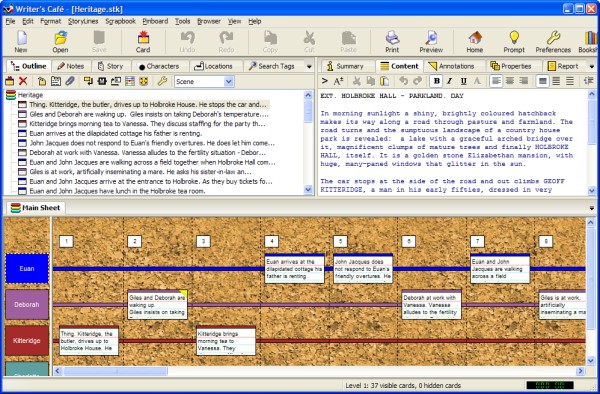 What some of our customers say:
"I just wanted to say CONGRATULATIONS. This software has been a godsend to me over the years, and when I upgraded to the full version just now it all worked seamlessly, as expected."
Melanie
"Just installed Writer's Café on the Eee PC. Installation was flawless, it's exactly the piece of software that was still missing. Thanks again."
Edgar
"I never thought I'd need software to help with a novel but Writer's Café ended up getting me out of a sticky plot situation."
Nicola Morgan ( YA novelist and sometime Chair of the Society of Authors in Scotland)
"I was drawn to Writer's Café because of its cross-platform capabilities. It's not just that I could use it on whatever OS I was using that day – for me a crucial factor is that it left me with a free choice of platform in the future. I'm not tied to a platform because all my files are in that format. Moving from one platform to another can cause of a lot of work and heartache."
Steve
I DO love your program. Writers Café is the best for creating something out of nothing, so to speak. It's easy to use, doesn't get in the way of the creative process, and a lot neater than piles of paper and notebooks. Sort of like a good friend or a therapist who just listens. It helps organize your thoughts and puts everything in perspective so you can hear what and understand your own ideas. Love it!"
Chris
You can download a free demo and find out more here: